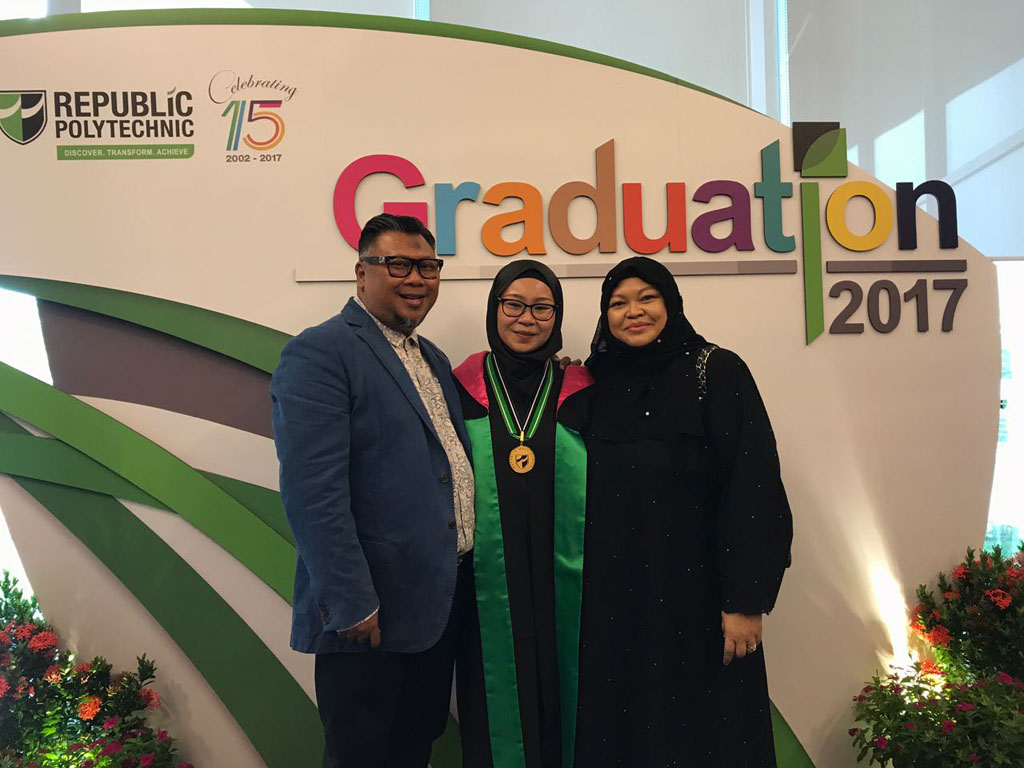 When Aqilah Faaiqah Haji Shamsuri wanted to pursue Medicine via the "unconventional" polytechnic route, she met many detractors.
She had just returned to Singapore after spending close to eight years in Dubai, where her parents were based.
"Prior to starting my poly education, I was criticised by many people for my choice to embark on the poly route to pursue Medicine. They thought I was being too ambitious," Aqilah said.
"However, my closest family were the only ones who believed in me and reassured me that I can achieve anything if I put my mind to it."
Two days after she graduated as RP's Most Outstanding Graduate of the Year, Aqilah moved a step closer to achieving her childhood dream of being a doctor. The 21-year old learned on May 4 that she has been offered a place in National University of Singapore's Yong Loo Lin School of Medicine.
The faculty admits about 300 students each year, even though it draws more than 2,000 applicants. Most have a string of 'A's for their A Levels, or in the case of polytechnic graduates, near perfect or perfect grade point averages of 4, according to a 2015 report in The Straits Times.
Aqilah, who is the fourth Diploma in Biomedical Sciences student to enter NUS Medicine, said the news "still feels surreal". "Although many of the decisions I've made and things I do in life were to prepare me for this pursuit, finally receiving the news that I was accepted into NUS School of Medicine felt like a colossal reward that I wasn't ready for. It was just that overwhelming," she said.
One of the decisions involved being away from her parents, who were working in Dubai, to return to Singapore to study.
"In my first two years of study, my greatest challenge was being separated from my parents – as they were still residing in Dubai while I stayed with my aunt's family in Singapore," Aqilah said.
"I am incredibly close with my parents. They are my pillars of strength and my ultimate confidante. Not having them around, to vent out my frustrations to during bad days or embrace them with joy on good days, was emotionally trying for me."
RP was not Aqilah's first choice, but was the only polytechnic that offered her the course she wanted – Biomedical Sciences.
"It was a blessing in disguise that I was enrolled into RP because I can't think of a pedagogy that suits my learning style better than the PBL pedagogy," she said.
At RP, Aqilah excelled in and outside of the classroom. She was inducted into the Director's Roll of Honour for four consecutive semesters and received the Lee Foundation Scholarship in 2015 and 2016.
Outside of the classroom, Aqilah took part in many service learning projects. Her most memorable experience was when she was elected President of the 13th Student Council – the highest student body in RP.
"I had never intended to pursue this role neither do I consider myself deserving of it," Aqilah said.
"In fact, I remember feeling terrified of the responsibilities that await me when I received the news I was elected. However, the confidence that my advisors and peers had in me motivated me to uphold the legacy of my seniors. Being surrounded by amazing leaders, such as my Vice Presidents and Committee members, who continuously inspire one another, has helped me mature tremendously as a leader."
Despite being involved in many student activities, Aqilah graduated with a near perfect GPA of 3.98. She would ensure her learning is done during lessons and would "never leave the class with a single shred of doubt".
"This thus limits the need to spend frequent and excessive time revising outside class and grants me more time to indulge in co-curricular activities," Aqilah said.
"However, time management and setting priorities are also key. As much as I would rather busy myself with cocurricular activities instead of studying, I will always prioritise my studies before my clubs during exam period."
Mr Haji Shamsuri, Aqilah's father, said he and his wife have never put any pressure on Aqilah to succeed. "She sets her own benchmark for every result she attains. However, we believe a consistent support to our child, regardless what their interest or goals are, is essential," he said.
Aqilah credits RP for playing "an instrumental role" in developing her interpersonal skills.
"Although, initially it was quite frustrating to collaborate with team members with varying work ethic, I've come to realise that this is how it is in the working world: you don't get to choose your colleagues. Instead, you learn to enhance one another's strength and compensate for each other's weaknesses. This has made me more confident and adaptable in any situation, especially when dealing with people," she said.