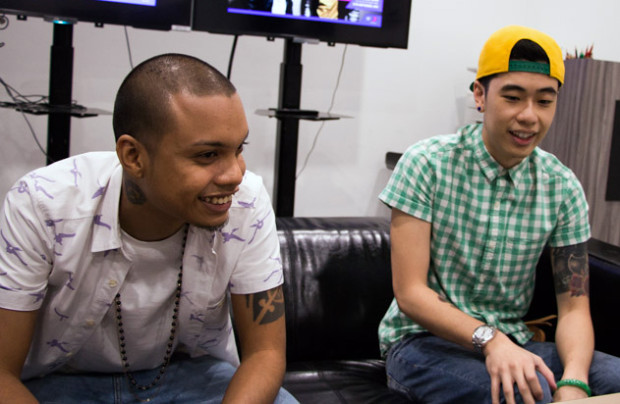 With their tattoos and bad-boy aura, you'd be forgiven for thinking hip hop duo Trick are intimidating when you first meet them. However, that exterior quickly evaporates when they offer jovial smiles and warm handshakes, in between jokes to lighten the mood on a weekday morning.
The up and coming pair, comprising of rapper Richard Jansen and singer Marc Lian, met The Republican Post during an interview at the Sony Store on Sep 10 following their recent signing to music label Sony Music SG. As artists under the Sony label, they will be recording new singles in the coming months.
During the interview, Trick spoke about being musicians in Singapore and following one's dreams, especially since theirs wasn't exactly a smooth journey.
The duo had met under unfortunate circumstances, with both their musical careers coming to a standstill – Richard's music was on an indefinite hiatus and Marc's former band, Quick Quick Danger, had disbanded.
Richard recalled: "When the band broke up, he (Marc) called me up and asked me 'Hey, do you wanna work on a project? Let's do a duo: a singing rap duo'. Which was great, because I really wasn't doing anything back then. So we met up, wrote a few songs, and that's when the first single came, BPM." Cue: the birth of Trick.
The two now create their own material, from writing and composing to singing, and post covers and their original songs on their YouTube page, which has garnered a following of 16,000 subscribers over the past two years.
But being a musician in Singapore is no easy task, according to the two. "If you're looking at the music career as a path to riches, then you'd better stop, go be a banker or something. It's really not the case: I mean you've really gotta do it only if you really love it, and fun to you," Marc said with a smile.
"It all depends on the hustle: the harder you hustle, the more you get," Richard added.
And boy, did they hustle.
Their hit single, Up All Night, hit No.1 on local radio charts, and was performed as the opening song for E! Online's Jay Park Showcase in Kuala Lumpur. They also performed at Music Matters 2014 and YouTube Fanfest 2014, which the two recall as the most memorable experience performing live. "They all sang along even though they didn't know the lyrics!" Marc said, laughing.
But it's not all about hip hop: no two songs are the same, according to the two. While Up All Night was hip hop, their latest single Sunshine has a reggae, dancehall theme to it. "Because we're called Trick: people don't know what to expect next, so it keeps things pretty interesting," Richard said with a grin.
The two are the definition of "hard work pays off", as they are set to perform their new single live for the first time at Hood Bar on Sep 27.  They are dreamers, but hard workers as well, and they ended the interview with this piece of advice: "Don't give up. People are going to put you down, but that's because they didn't make it. The more you practise, the better you become!"
Finally, Marc and Richard are beginning to see the sunshine after the rain.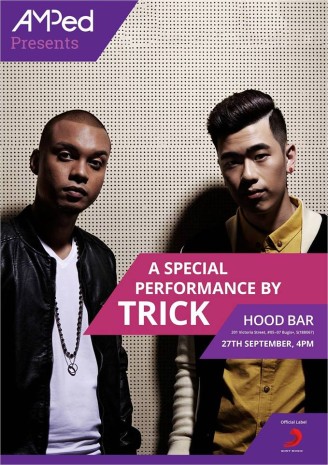 Win a pair of passes to Trick's exclusive showcase at Hood Bar on Sep 27. Simply email us telling us why you want to see them. Closing date is Sep 22.