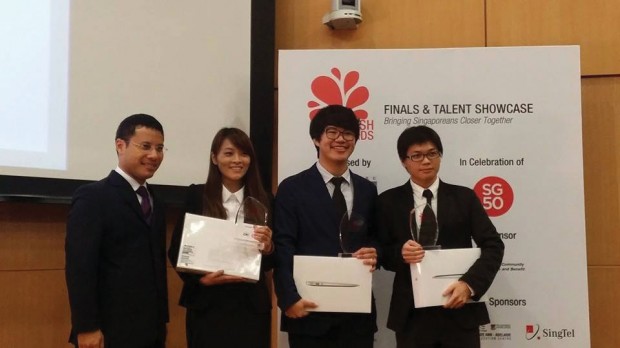 Technology-driven competitions inspire Infocomm students to create apps that impact the local community.
A team of Republic Polytechnic students have been awarded $30,000 for developing an app idea that encourages people to put down their phones and get in more human-to human interaction.
The team – made up of Libern Lin, Fang Ling Qing and Lester Yap, all 20-year-olds from the School of Infocomm (SOI) – was awarded the grant at The Splash Awards in November last year.
The Splash Awards is an annual IT competition organised by the Singapore Computer Society, to engage students through various aspects of Infocomm Technology by using fun and creative ways.
More than 170 participants took part in the contest which is centred on the theme "Bringing Singaporeans Closer Together", to celebrate Singapore turning 50 this year. There were a total of three rounds before the judges decide on the winner. The team felt that the most challenging round was the final round.
"We were excited, yet nervous. We had to put a lot of effort into our presentation scripts to make sure we got everything right," said Libern, the team's group leader.
The team's winning app idea "Apple Tree" aims to encourage more face-to-face interaction among friends and family.
"When people come together, everyone is busy with their phones. By creating this app idea, we hope to solve this social problem of people interacting less," said Ling Qing. The
Apple Tree app works when two or more users to put their phones together. The app will lock the phones, while a virtual apple tree grows on their screen. The more number of phones are being connected, the faster the apples grow. These virtual apples collected can then be exchanged for vouchers or discounts from partnered vendors.
Users are also encouraged to exchange the virtual apples in the form of donations for charities. The team hopes the users can benefit from the app, especially those who hardly get to spend quality time with their friends or families.
Libern said: "This app will help users make full use of their quality time spent together, and they get rewarded doing so." The app is expected to be released in March this year, to mark the SG50 celebrations.