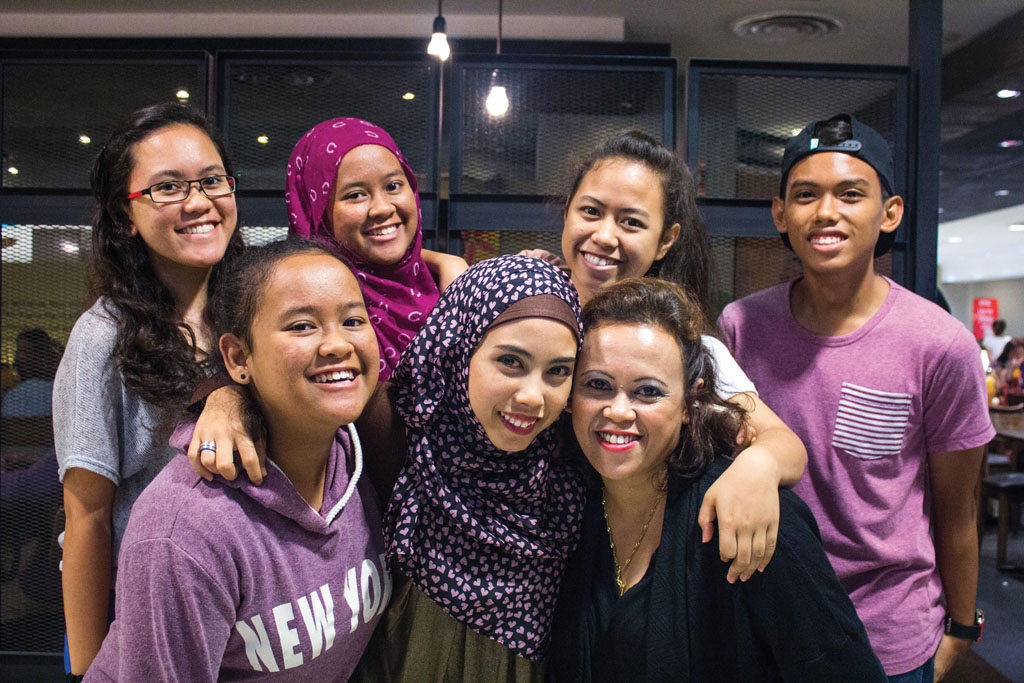 If you are in school all day, can you survive on $5 a day?
For perpetually hungry teenagers, that's the cost of one proper meal. But for 22-year-old Nur Syaidah Bte Juraimi, it is simply not an option to spend even a dollar more. Because she has to contribute to the family income as her mother, a single parent, is the sole-breadwinner and she has five siblings under her care.
"I've to pay my own bills and help my mom support the family. I give some of my bursary to my mother so she can pay for the basic necessities. So for me, a daily budget is important because I have to divide it to last a few months,'' said Syaidah who lives in a three-room flat with her family.
But talk to the petite and bubbly School of Hospitality (SOH) student who graduated on May 7, and you will find she has no negativity about her family situation. Beneath her demure exterior is a determined and disciplined girl who simply worked around her circumstances.
Syaidah who graduated with a Diploma in Wellness, Lifestyle and Spa Management has consistently done well enough to receive several awards, such as the National Youth Achievement Award (NYAA) award and the Eagles Award. She was also on the Director's Roll of Honour last year.
How did she manage all this, while working the evening shift as a telemarketer from Saturday to Thursday, from 6pm to 9.30pm?
"The main thing is to focus in class and revise after lessons," shared the Sub-Committee Member of the Student Council. "A lot of people tend to scroll through social media and use their phones during class. For me all of that is a big no because I really don't have the luxury of time."
Syaidah soon discovered that she had to be as efficient as she can. Before leaving school for work she makes sure she completes her RJs and organises her notes. On the commute back home, she goes through readings and notes as a form of revision.
Once home, she has to help her mother with the care of her siblings, aged 15 to 20. She takes the opportunity to talk to them. "Every day I try to talk to my sisters to instil values about hard work and the importance of education. I remind them that even though our situation may be difficult right now, things would improve in the future if we work towards it,'' said Syaidah who was also involved in Malay dance in RP.
Being young, it is inevitable the pressure gets to her and she feels exhausted on some days. But the negative feelings dissipate when she sees her mother who works as a sales assistant. "Seeing my mother struggle to take care of the family motivates me. She has to go through so many challenges and I feel that if my mom can do it, I can too."
Besides, giving up isn't an option.
"You alone decide what your future is so you cannot give up simply because you find it difficult. You've to pull through, for me and my family."
Her journey does not end upon graduating. If anything, it's only just begun. Syaidah is looking at part time degrees to enrol in while working full-time. She was offered a position by her internship employer Spa Esprit Group.
Her mentor in SOH, Senior Lecturer Fattimah Ally, says Syaidah was an exemplary RP student and she has no doubt that she will find success.
"She attended all the revision classes conducted during the term break, completed all her projects on time and even helped her classmates who were having challenges. She volunteered to check 30 portfolios to ensure they were up to standard before they were submitted.''
Ms Ally adds that Syaidah's best attribute was in how she divided her time wisely. "It was certainly not easy for her to balance so many things. But she stayed focused and I think her success speaks for itself.''