Game 1: Exploding Kittens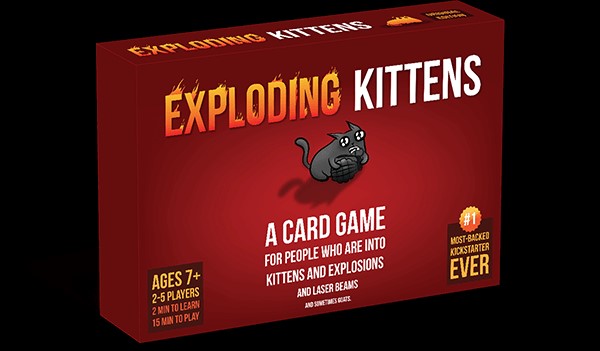 Type: Card game
No. of Players: 2-5 (up to 9 players if combined with other decks)
How to Play: Players will draw cards until they get the Exploding Kitten card, in which you will ' Unless, they have a defuse card which will prevent you from exploding. While drawing cards, you may encounter action cards which allow you to avoid being exploded such as goats, magical enchiladas and exploding back hair!
Why this game? Every round is an intense and thrilling experience as you wonder which of your friends or family will try to sabotage you! This simple and fun game with cute characters will definitely bring your family and friends together and spread the Christmas cheer.
Rating: 4/5 kittens!
Game 2: Pie Face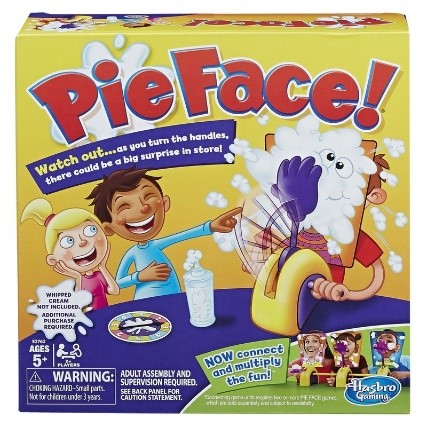 No. of Players: 2 or more players
How to Play: Firstly, load the arm with whipped cream or pie (a small one). Then, players will have to spin the spinner to determine how many times the will be turned. Players will then have to put their faces through the hole and turn the handle, this will go on for a few rounds until someone gets PIE FACED!
Why this game? This short and simple game is a good way for forfeits if someone forgot to bring a present or is just being a party pooper (and its good for generating laughter too!) Its also a more exciting way to finish that pie that your mom made for dessert! What's a better way to eat pie than lick it off your face?
Rating: 3/5 Apple Crumble Pies (yum!)
Game 3: Penguin Trap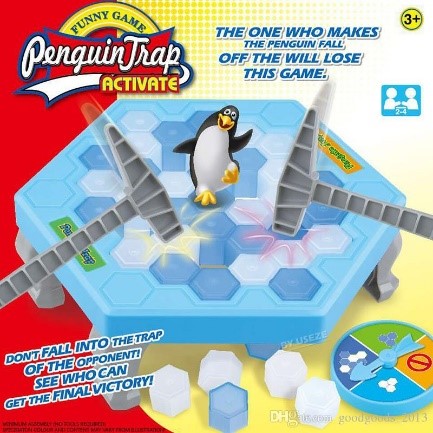 No. of Players: 2 or more players (can be split into two teams)
How to Play:  The goal of the game is to not let the penguin escape – in other words, it can't fall! The spinner will determine the number of 'ice' you have to break.
Why this game? This game is great for small groups who need an ice breaker (pun intended) to liven the party. The rules might be simple, but this game will keep you on your feet at every round!
Rating: 3/5 Penguin Waddles
Game 4: Pictureka!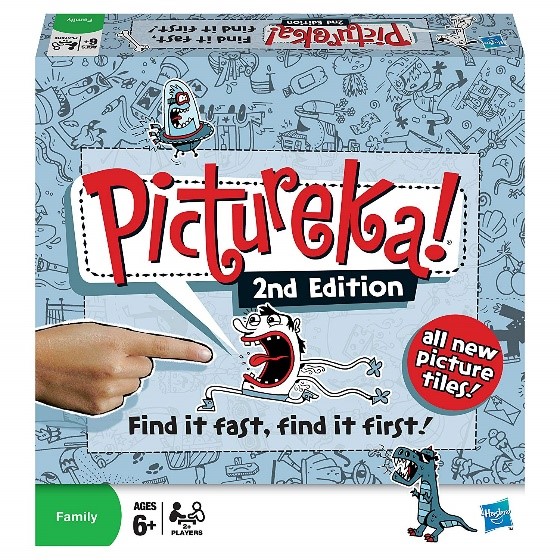 Type: Board game
No. of Players: 2 or more players
How to Play: The basic mission of the game is to find objects on the 3×3 grid tiles as stated on the cards before the time runs out. When you find the object shout "PICTUREKA!" and point at the object. You win if you collect the most cards!
Why this game? If you are bored of playing the same old games, give this game a go! The 3×3 tiles can be flipped over and moved around, so it is almost impossible to memorise where the items are. The simple rules also make the game perfect for families with children, so you can distract them while you eat some log cake!
Rating: 4.5/5 Picturekas!