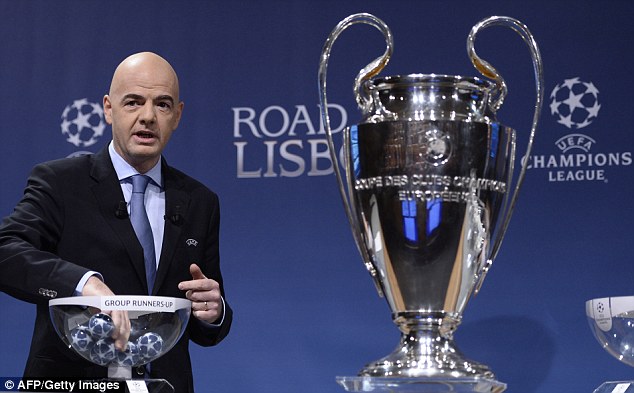 With European football back on our screens, here's what to expect from the upcoming Round of 16 fixtures and which teams are expected to progress over the two legs.
Shakhtar Donetsk vs Bayern Munich
Political instability has seen Shakhtar play their home games at a new stadium, away from the conflict. But the team will not be getting any reprieve as they face 2013 champions Bayern. Midfielders Luis Adriano and Bernard will have to step up against the Bavarians who boast the likes of Franck Ribery and goalkeeper of the year Manuel Neuer.
Player to watch: Arjen Robben. Age is just a number it seems for the Dutchman, who has been in fine form. Expect him to pull the strings in midfield and guide the Bavarians to victory.
Result: Bayern victory.
Paris St Germain vs Chelsea
A battle of wealth as two of Europe's richest sides take each other on. Both clubs have the trophy as their main priority and Chelsea coach Jose Mourinho will pull out all the stops to complete his treble of European trophies. Expect it to be a close encounter.
Player to watch: Eden Hazard. The Belgian wizard can turn a match on its head and inspire a victory. Look to him to provide the magic.
Result: Chelsea victory
FC Basel vs Porto
One of the ties that may not be given much attention but still packs a punch. Basel have already surprised five-time winners Liverpool in the group stage and qualified along with Real Madrid from their group. Porto have also been in good form with striker Jackson Martinez banging in the goals.
Player to watch: Jackson Martinez. A deadly finisher, the Colombian has been the Portuguese side's target man for many seasons. Expect him to come up with the crucial goals to settle the tie
Result: Porto victory.
FC Barcelona vs Manchester City
A mouth-watering clash featuring big names such as Neymar and Sergio Aguero makes this tie extremely hard to call. The previous encounter saw the Catalan giants blow away the Citizens 4-1 on aggregate. This tie, however, should be a lot tighter. Both sides will want to prove they can win the trophy and with star- studded line-ups, it will be the tie to look out for.
Player to watch: Luis Suarez. It has been a quiet season for the Uruguayan. Following his big money move to the Spanish giants, he has failed to deliver the goals we saw during his time at Liverpool. It could be the match where he finally steps up to the plate.
Result: Barcelona victory.
Arsenal FC vs Monaco
Both teams would have wanted this tie given the number of tough opposition in the competition. Arsenal would probably count themselves lucky not to have been pitted against Barcelona or Bayern for the first time in four seasons. Monaco have one of the best defences in the competition, with only eight goals conceded. This tie could be decided by a moment of brilliance from either side.
Player to watch: Theo Walcott. Injury saw the pacey winger take a year's sabbatical to recover. Since his return, he has netted seven goals in as many Premier League games and could prove the crucial man to win the tie for the Gunners.
Result: Arsenal victory.
Bayer Leverkusen vs Atletico Madrid
The Germans have not been in the best form recently and will certainly need to up their game against last year's runners-up. This game could be a battle of the midfield talents, with the likes of Lars Bender and Arda Turan respectively.
Player to watch: Antoine Griezmann. The Frenchman can score and assist and with his pace, can be the cutting edge for his team.
Result: Atletico Madrid victory.
Juventus vs Borussia Dortmund
Contrasting fortunes mark both teams, with the Old Lady leading the Serie A and Dortmund languishing at the bottom end of the Bundesliga. However, Dortmund had a strong Cup run, topping a group which featured Arsenal and Galatasaray. Juventus will look to build on their league form as well.
Player to watch: Marco Reus. Having committed himself to Dortmund till 2019, the German will be a key figure in both their relegation battle and their Cup run. If fit, he could bang in the goals that will help them progress.
Result: Dortmund victory.
Schalke 04 vs Real Madrid C.F
A miss match on paper, this clash seems extremely one sided. History is also not on Schalke's side, with their previous meeting ending in a 1-6 humiliation at the hands on Los Blancos. The German side will look to improve on that result, but with such firepower , it seems there can only be one winner.
Player to watch: Gareth Bale
Some have criticized the Welshmen's performances as being lazy, and it would be great if he can show them he is worth the world record fee Real paid for him.
Result: Madrid victory.