The 2014 FIFA World Cup has been sensational, bringing us 48 first-round matches where 136 goals were scored. Loads of drama, huge upsets and nail-biting moments were par for the course these past two weeks. M. SHANJAYAN takes a look back at how the group stage went.
Group A: 1.Brazil 2.Mexico 3.Croatia 4.Cameroon
Hosts Brazil kicked off the tournament in dramatic style after Marcelo scored an own goal against Croatia before recovering to win 3-1. Bar the Cameroon game, they were unconvincing. Thankfully, with four goals to his name, Neymar has fired them through to the knockout stages.
Croatia are probably the disappointment of the group as many expected them to qualify, but a loss against Mexico was decisive in their exit from the tournament.
Group B: 1.Netherlands 2.Chile 3.Spain 4.Australia
Spain, oh Spain! La Roja went from total world domination to utter humiliation. Coach Vicente Del Bosque had tactical nightmares when they faced Netherlands and Chile, losing 5-1 and 2-0 respectively.
Louis Van Gaal's Netherlands and Jorge Sampaoli's Chile, who both qualified for the second round, impressed with their potent counter attacks and style of play, especially when they faced the fomer world champions. Australia won the hearts of many when they gave the Netherlands a run for their money.
Group C: 1.Colombia 2.Greece 3.Ivory Coast 4.Japan
C for Colombia! They utterly dominated this group. A team led by James Rodriguez scored nine goals and only conceded two, sending a message to the others who qualified that they want a piece of that golden trophy.
Greece, the runners-up, showed tremendous defensive strength. Konstantinos Manolas, the Greek centre-back, deserves plaudits for his stand-out performances that played a part in his nation's unlikely progress.
Group D: 1.Costa Rica 2.Uruguay 3.Italy 4.England
In a group comprising three former world champions, no one would have predicted Costa Rica to finish on top.
Uruguay qualified in the last game with a win over Italy, while England sunk to a new low with their worst World Cup performance since 1958.
Group E: 1.France 2.Switzerland 3.Ecuador 4.Honduras
Many doubted France after the exclusion of Samir Nasri from the squad and injury to Franck Ribery. However, Les Blues have silenced their critics by scoring eight goals in total so far.
Second-placed Switzerland beat both Ecuador and Honduras with their efficiency in front of goal, while Ecuador exited as the only South American team to falter before the round of 16.
Group F: 1.Argentina 2.Nigeria 3.Bosnia-Herzegovina 4.Iran
In times of trouble, Lionel Messi has rescued his nation. Scoring four of his team's six goals, the world's best player (Cristiano Ronaldo will have something to say about that) has fired his nation into the round of 16, although the rest of the team should step up from now on if they are looking to win this tournament.
Nigeria qualified after winning against Bosnia and picking up a point against Iran. They did impress against Argentina after Ahmed Musa had a brief tit-for-tat with Messi in their Porto Alegre showdown.
Group G: 1.Germany 2. USA 3. Portugal 4.Ghana
Germany started off their campaign with a 4-0 drubbing of 10-man Portugal, courtesy of Pepe's red card. Thomas Muller, especially, was one of their stand-out performers.
USA qualified on the last day of the group stage on goal difference. Ronaldo tried his best to help Portugal qualify, but sadly, his team-mates lacked the quality and hunger to match his.
Group H: 1.Belgium 2.Algeria 3.Russia 4.South Korea
Labelled as dark horses, Belgium did not really impress although they topped the group. The wins they managed were thanks to moments of brilliance from their world class players.
Algeria joined Nigeria as the two African teams to qualify for the second round, a first for the continent.
The Biggest Talking Point
With the whole world watching, Uruguay's Luis Suarez should have known better than to bite Giorgio Chiellini. What is amazing about this incident is that it isn't his first or second, but THIRD biting offence.
Just from this silly incident, Suarez has let both his country and club down. With Edinson Cavani misfiring, Suarez was the South American nation's big hope to lead the line, but that must all surely have gone up in smoke by now.
He now faces a nine-game ban and four months away from football. That includes entering any footballing stadium. With such a harsh punishment, Suarez should definitely think twice before mistaking his opponents for food.
Our pick for the best XI players from the group stage: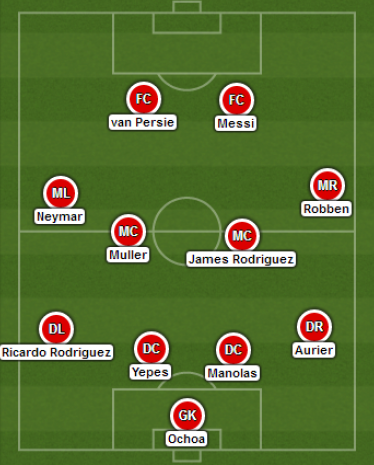 Goalkeeper: Guillermo Ochoa (MEXICO)
Right-Back: Serge Aurier (IVORY COAST)
Centre-Back: Konstantinos Manolas (GREECE)
Centre-Back: Mario Yepes (COLOMBIA)
Left-Back: Ricardo Rodriguez (SWITZERLAND)
Right-Midfield: Arjen Robben (HOLLAND)
Centre-Midfield: James Rodriguez (COLOMBIA)
Centre-Midfield: Thomas Muller (GERMANY)
Left-Midfield: Neymar (BRAZIL)
Centre-Forward: Lionel Messi (ARGENTINA)
Centre-Forward: Robin van Persie (HOLLAND)