Brazil 2014 has been an absolute joy for the football fan. With only eight teams left, the tournament has reached its business end. HAIQAL SARI previews and predicts the four quarter-final matches that are set to occupy our sleepless nights (and mornings).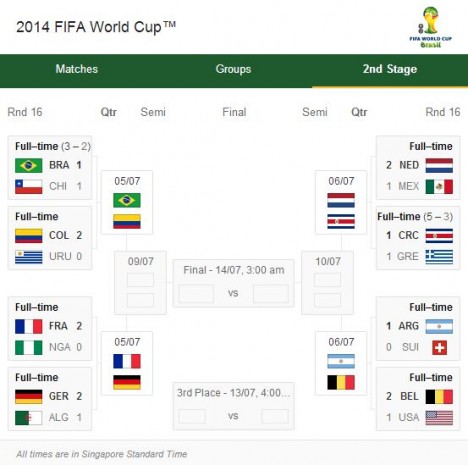 Brazil vs Colombia
This is the kind of match that will be decided by one player and one moment of individual brilliance. Neymar? No, I'm talking about Colombia's James Rodriguez. The 22-year-old attacking midfielder has five goals from four games, plus two assists. His first goal in his country's last-16 clash against a much-fancied Uruguay is the exact kind of individual brilliance I am talking about – with his back to goal, he chested the ball down before swivelling to unleash an unstoppable dipping volley. Wow.
But let's not forget the supporting cast. Juan Cuadrado, Juan Quintero, Fredy Guarin and Abel Aguilar deserve as much praise as Rodriguez. Vital cogs in a well-oiled machine, each of them has played extremely well.
Brazil, on the other hand, laboured to a penalty shootout victory against a Chile side that showed twice the amount of hunger and determination than they did. Careless in defense, unimaginative in midfield and lethargic in attack, the Seleção haven't really performed up to expectations. Only a dominant 45 minutes against a hopeless Cameroon side came anywhere close to justifying expectations.
The Chileans showed just how to rattle the Brazilians, so expect red-hot Colombia to do the same, but with greater success. In a World Cup where giants like Italy, Spain and Portugal have been sent packing prematurely, the giant-killing must continue.
Prediction: 3-2 to the Colombians
The Netherlands vs Costa Rica
If there is Cinderella story for this World Cup, it has got to be the Central Americans. Emerging undefeated from a group containing three former world champions with seven World Cup crowns between them, Jorge Luis Pinto and his men are living up to the "dark horses" tag even better than some (*coughBelgiumcough*).
The sublime finishing of Bryan Ruiz, pace and directness of Joel Campbell down the wings and athleticism of Keylor Navas in goal have been the backbone behind Costa Rica's fairy tale. Few teams will win more hearts than them.
Despite overcoming Mexico somewhat undeservingly in the second round, the Netherlands are still one of the few genuine powerhouses left in the competition. Sure, a contentious penalty might have settled an encounter where the Dutch were second-best for long periods, but a team that can defeat reigning champions Spain 5-1 should never be doubted.
Prediction: Expect players like Wesley Sneijder and Robin van Persie to step up after disappointing against Mexico. My money's on a 2-0 win for the Oranje. Costa Rica's Brazilian odyssey must surely come to an end.
France vs Germany
Ah, the highlight of the round. The last time Die Manschaaft met Les Bleus in the World Cup was in 1986's semis when the Germans won 2-0. Germany's galaxy of superstars are widely expected to emerge victorious, but based on their mixed form in Brazil, some are unconvinced.
After a 4-0 thrashing of Portugal in their first match, Germany were made to sweat by Ghana, struggled against the USA and scraped through at the last minute in their second-round tie against Algeria.
With the exception of Thomas Muller, the rest of the team doesn't look up for it. Bastian Schweinsteiger looks short on fitness and confidence, Mesut Ozil looks lost as usual and Philipp Lahm's conversion to a defensive midfielder has thinned the full-back options so much that centre-half Benedikt Howedes played left-back against Algeria. Post-match, defender Per Mertesacker said: "Don't analyse this… All games [in the knockout round] have been tight. We're through." That sort of defensive response is not exactly what you want to hear after huffing and puffing through an extra-time victory against an opponent well below you in the world rankings.
France, meanwhile, powered through the group stages and then navigated past a strong Nigeria side in the last 16. With the entire squad performing as if the debacle of 2010 never happened, and players like the spectacular Paul Pogba, Mathieu Valbuena and Karim Benzema stepping up, Les Tricolores have a slight edge coming into this game.
Prediction: I firmly believe that France coach Didier Deschamps was right when he said he picked the best team, and not the best players. After struggling against Algeria, expect Germany's faults to be even more exposed by the French. I say 1-0 to France.
Argentina vs Belgium
If you're a fan of either one of these teams, look away. You won't like what you're about to read. If there was a pair of teams who should not be in the quarter-finals, these two qualify. Uninspiring performances in their respective groups have made way for second round extra-time victories that have looked more like escapes than triumphs.
Insipid performances made up of long-ball tactics have made Belgium's Red Devils one of the most underwhelming teams in the tournament. With stars like Vincent Kompany, Romelu Lukaku and Kevin De Bruyne, many expected the tiny nation to come up big with breathtaking performances, but it has been anything but. Coach Marc Wilmots has been accused of being unable to accommodate his best players into a winning formation and instead, shoehorning individuals into an ill-fitting system.
De Bruyne is an example of that. Spectacular as an attacking midfielder for his German club Wolfsburg, he has looked bogged down by an anchor role that does not suit his creative skill set. Eden Hazard, too, seems to be proving that his comments about Lionel Messi and Neymar being his inspiration is all just talk and nothing more.
Argentina, on the other hand, have fared little better. All of their games have been won by a single goal margin. When taken into perspective – their opponents have been Bosnia and Herzegovina, Iran, Nigeria and Switzerland – it doesn't look impressive at all.
Apart from their formidable frontline, the rest of this Argentina team gives an overall sense of "meh". With four straight Man-of-the-Match awards, Lionel Messi is singlehandedly keeping the South Americans' heads above the water. One positive would be the fact that Messi is doing all he can to pull off a Diego Maradona in 1986.
Prediction: A drab encounter awaits us. Expect Messi to turn on the magic and bewitch the Belgians out of the World Cup. 1-0 Argentina.