F1 legends Sebastian Vettel, Michael Schumacher and Ayrton Senna all share one thing in common – they started their career by karting.
It is in hopes of unearthing the next F1 star that the first ever Karting Training Programme and Championship was held this year. Organised by the Singapore Grand Prix, it aims to allow Singaporeans and Singapore residents with no prior experience to develop their talent for karting.
A total of 120 youths won their right to the qualifying rounds on June 15 after being picked from a ballot of 820 applicants. They were then divided into two age groups – 15 to 17 and 18 to 21, from which only half will go through to the finals on Aug 30.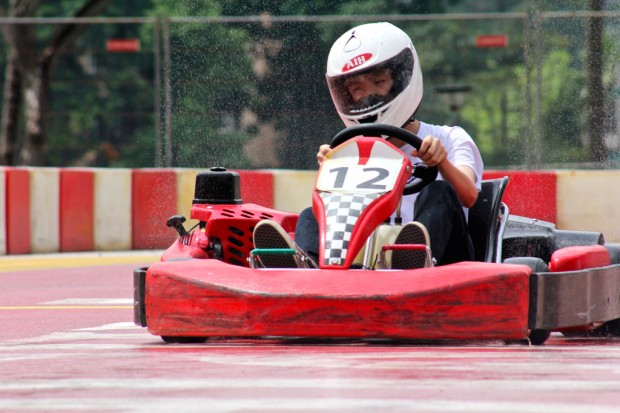 The fully funded karting event was part of "Rev Up Singapore!", a community outreach programme to build up the anticipation for the Singapore Airlines F1 Grand Prix.
Each participant, who had gone through workshops and training, had to race around a 450-m track in the fastest time possible on Sunday.
"We want to introduce them to the world of motorsports," said Fiona Smith, Singapore GP's assistant director for media and communications.
Six Republic Polytechnic students also had a piece of the action, including Muhammad Alif bin Muhd Hussein, 20, who made the cut for the finals.
"I feel really lucky to be selected for this. It is my first time karting and achieving something today is a wonderful experience," said Muhammad Alif, a third-year Diploma in New Media student who happens to be a huge fan of reigning world champion Vettel.
Another finalist, Ameenudeen Alaudeen who is currently waiting for national service, was so pumped about the race that he practised hard for Sunday's race.
"Physically, I trained in the gym… mentally during practice, I visualized the track," said the 20-year-old, who clocked a time of 27.4 seconds.
Related Story

For F1 fan Tanya Sen, one of the eight female participants from the 15-17 age group, the event was a fun experience even though she didn't qualify for the finals.
"It was very exciting because I have never done something like this before and I learnt more about karting which I wouldn't have otherwise," said the 16-year-old from Global Indian School.
The two winners on Aug 30 will walk away with a year-long karting scholarship sponsored by KF1 and Singapore GP, consisting of a Singapore Motor Sports Association Karting license, practice sessions, full race gear and entry to the 2015 KF1 official races in Singapore worth close to S$12,000 (per person).
With his eye on the grand prize on Aug 30, Ameenudeen said: "First place is what I am looking for, that's why I am here."