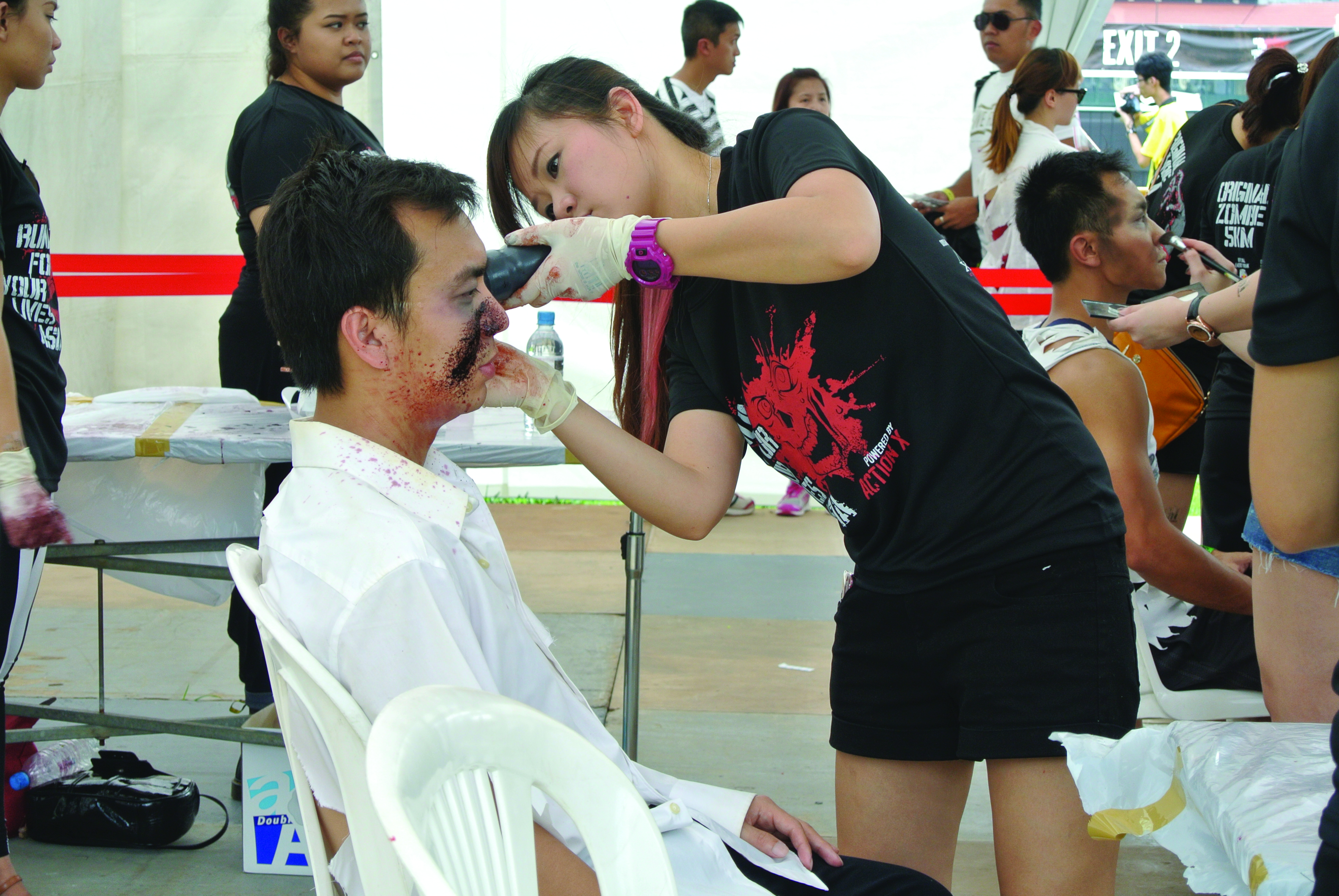 This zombie-themed 5-km obstacle course race originated from the United States of America. It was created by Reed Street Productions in 2011 and this year it has chosen Singapore as their first stop in Asia.
Organised by Action X, it is also the first urban race to take place in the heart of the city, along the Marina Bay district.
Besides running away from the zombies hungry for your brain, there were a series of man-made obstacles such as a "blood bath" that survivors had to overcome throughout the race.
Medals were also given out for two categories which included being a proud survivor or an infected zombie. After the race, there was an all-day apocalypse party where humans and zombies could party together.
"I was glad that I signed up as a survivor. It was extremely exciting and fun to go through the obstacles and avoiding getting caught. Although the zombies didn't look very scary, the idea is there," said Florence Ng, 21, an NTU graduate who survived the 5-km obstacle course race.
Florence also mentioned that she was afraid of losing the three tags which represented their three lives more than winning the race. Miss Grace Lee, 48, a pilates
instructor who signed up as a zombie said she did not like to feel scared so she decided to have some fun scaring people instead.
"It was thrilling to tear the tags off people and seeing their disappointed faces," said Ms Lee. "Moreover, my long, thick and fuzzy hair makes me look like a
zombie."
As the inaugural urban race in Singapore, some felt that the zombie apocalypse atmosphere was not present.  Nevertheless, the after (apocalypse) party held at the Padang was a blast as runners celebrated their victory and zombies celebrated the number of lives they took.
A wide array of delicious food, drinks and live entertainment ensured that everyone was happy. It lasted from 2pm to 11pm. Model and radio deejay, Nicole Chen, then brought the event to a chilling close.