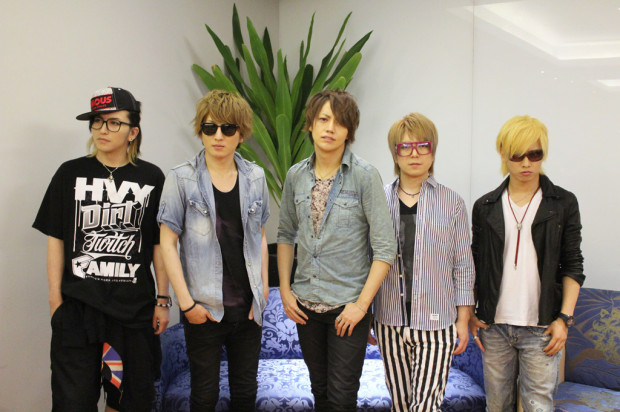 Showing all the easy familiarity and banter of a band who has been together for a decade, Alice Nine spoke about bras, becoming doctors and bathroom discoveries during a press conference in Sentosa.
Vocalist Shou, guitarists Hiroto and Tora, bassist Saga and drummer Nao met a group of about 15 journalists at the Hard Rock Hotel in Sentosa straight after a meet-the-fans session at JCube shopping mall on June 27, the eve of their first major concert in Singapore.
The last time the visual-kei band was here as part of the Sundown Festival in 2012, bras were thrown at Saga, who is considered as one of the sexiest bassists around, by enthusiastic female fans. He said cheekily: "So this time I am expecting more (bras)."
Singapore was the 11th stop in their Supernova Symphonia Asia Tour 2014, held to celebrate their 10th anniversary. The tour also took them to China, Malaysia and South Korea.
All that travelling has given them plenty of interesting memories, including a bathroom-related one in China.
"In China, we were surprised the toilet paper couldn't be flushed away due to the water pressure not being strong enough unlike in Japan but hmm… Singapore is alright," said Tora with a chuckle as the quintet lounged on a sofa.
Formed in 2004, the band's trademark look consisted of elaborate, Gothic costumes to stand out from other Japanese bands but that has taken a backseat in recent years.
Shou explained: "Now we are not concentrating too much on the costumes because we want to focus on our music. We just want to keep it elegant in the Alice Nine way."
When asked what their lives would be like if they hadn't chosen the musical path, the five gave some surprising answers.
"Not too long ago I quit smoking and started on sweet stuff so with this in mind, I would want to be a pâtissier who makes cakes and sweets," said Hiroto, causing the female journalists in the room to swoon.
Saga added he would be a football player in the mould of Manchester United star Shinji Kagawa while Shou revealed he'd be "a creator or an artist, possibly like a chef".
Nao gave the most solemn answer: "I would like to save lives so perhaps a doctor." However he quickly turned the mood back to a light-hearted one by gesturing as if he was listening to a patient's heartbeat with an imaginary stethoscope.
But after making music together for such a huge part of their lives, Tora couldn't imagine any other career path. "Probably if I weren't a musician, I would be doing nothing," he said.
Right now, he wouldn't have to worry about that as the band looks ahead to making more music, growing their fan base and visiting more countries.
Read a review of the Alice Nine concert here.