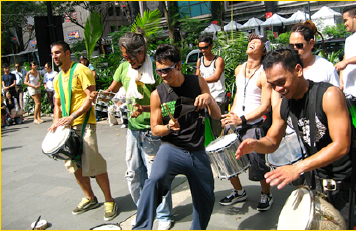 With two decades of playing experience and mastery over a wide variety of percussion instruments, award-winning percussionist Riduan Zalani is one of the most prominent musicians in Singapore. The latest in his list of accolades are this year's Singapore Youth Award and ASEAN Youth Award. He is also a member of Wicked Aura Batucada, a local percussion group that has performed in and made waves in Spain, the United Kingdom, South Korea, Australia and the United States.
In his latest musical venture, Riduan is the music director of World Drum Night, a percussion event that is part of Republic Polytechnic's Reflections 2013.
THE REPUBLICAN POST speaks to him about his inspirations, his journey as a musician and his band.
When and why did you start playing percussion instruments?
Initially, my interest for traditional arts forms led me to pick up Malay percussions, as well as traditional Malay dance. This was when I was about seven years old. But after a while, my love for drumming grew. And after 10 years in the traditional Malay music scene, I decided to expand myself into world drums.
I've learnt many different instruments and styles ranging from Middle-eastern, Afro-Brazilian and even Oriental drums. I was eventually given the opportunity to enrol in LaSalle College of the Arts, where I got my Diploma in Music, and my major was in drums and percussion.
Who are some of your influences and inspirations?
There have been many people who have shaped my style and my way of thinking. There is no particular artist that I look up to as my heroes include numerous people outside music such as Bruce Lee and Muhammad Ali.
But what I will say is that what inspires me is my environment. I believe that an artist is unique to his point of origin, as well as the era he lives in, and in my case I was born in Singapore in 1985. This was a time before YouTube where teachers were hard to come by. Therefore, I tried to learn as much as possible from my musical environment. This is why I picked up multiple instruments. I believe that versatility is my focus and that by learning other instruments, I will be able to be sensitive and sensible when playing with other musicians.
You have received many notable awards over the years. How far do you think these awards go in helping to legitimise your craft?
I guess it does help on certain levels, but overall, I don't think it changes the way I play drums. On the topic of legitimising my craft, I think the people who have seen me play drums will know that I've always given my all on stage.
These awards serve as more of a motivational pat on the back and after 20 years of performing, I am grateful to have received such recognition. But at the end of the day, it is separate from my drumming. I have never used the awards to get a show.
In an age where 4-5 piece bands are so popular, what is it about Wicked Aura that sets them apart from the rest despite its relatively unique line-up and instrumentation?
They stand out because of their uniqueness. Wicked aura is a pioneer in the Afro-Brazilian percussion movement, the most significant thing that they have been doing over the last 10 years would be making percussion music accessible. Other than my personal interest, the main reason why I am in bands that are musically diverse is because I believe that the music industry needs these bands to truly have that eclectic mix of music.
Related Story

How important do you think events like Reflections and World Drum Night help expose and develop interest in the more contemporary arts forms amongst young people?
I think it's very important. I think that because of the existence of these events, people are more aware and appreciative of contemporary arts. These showcases allow students musicians to maximise their potential and revisit and re-evaluate their craft as well as the craft of others. Ultimately, it's about the exchange of ideas and perspectives that will only benefit the musician further.