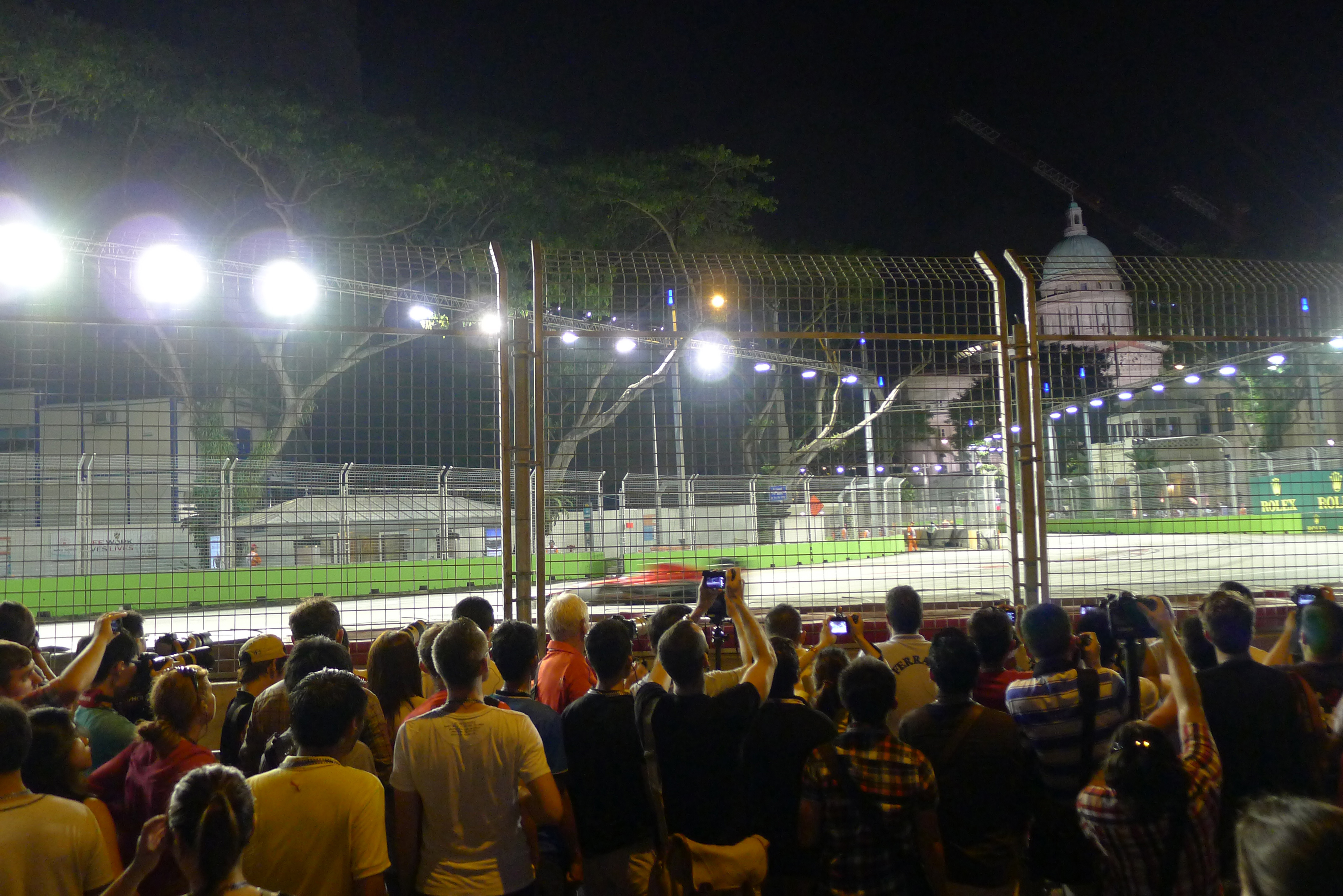 Sebastian Vettel became the first man to win the Singapore GP for the third consecutive time as he raced away to yet another imperious victory.
In what was his most dominant performance of the season yet, Red Bull's Sebastian Vettel won Sunday's F1 race at the Marina Bay Street Circuit well ahead of his rivals, with Ferrari's Fernando Alonso finishing almost 32 seconds behind the German. Lotus' Kimi Raikkonen, who had earlier this week announced his departure to Ferrari next year, grabbed the last spot on the podium.
Mercedes duo Nico Rosberg and Lewis Hamilton came in fourth and fifth respectively, with Ferrari's Felipe Massa and McLaren's Jensen Button and Sergio Perez following suit. Rounding out the top 10 were Sauber's Nico Hulkenberg and Force India's Adrian Sutil.
Related Story
The Straits Times reported that a record 262,527 visitors attended the sixth edition of the three-day race.
The race got off to an excellent start, with Rosberg, who had started second on the grid, bravely sliding past his countryman Vettel on the inside within seconds of the flag-off. But the Mercedes driver had put too much into it and as a result ran slightly wide, allowing the Red Bull juggernaut to slip back into first. "The start was quite hairy, Nico (Rosberg) had a better start and I didn't get going, but unfortunately he went a little too deep and I could get it back,'' Vettel said at the post-race press conference.
With Vettel in control from start to finish, it was Finnish driver and former world champion Raikkonen who provided the night's main highlight. Despite nursing a sore back, the Finnish ''Iceman'' raced brilliantly to secure a podium spot despite starting 13th on the grid.  Fan favourite Alonso also managed to manoeuvre his way from a starting position of seventh to runner-up.
Torro Rosso's Daniel Ricciardo crashed into the barriers on Turn 18 of the circuit. Out came the safety car, has now become an annual tradition at the Singapore GP. The deployment of the safety car erased Vettel's lead, but he showed his quality by clocking the fastest lap of the night at 1m48.574s once the safety car had left.
Vettel drove past the chequered flag to the explosion of fireworks over the Marina Bay skyline, with a record winning margin of 32.6 seconds. Despite having extended his lead in the title race to a hefty 60 points ahead of Alonso, the Red Bull driver deflected the praise to his team, saying: ''The car was incredible and if we have results like today where we have the luxury to control the race, it's because of the commitment from everybody (engineers and mechanics)."